Advertisers are spending millions of dollars every day to compete for the attention of the consumer. TV commercials, outdoor billboards, and radio are all examples of trying to attract consumer attention. After seeing all these advertisements, consumers turn to google to make their decision. Will you be found when the consumers are working to narrow down their choices?  
PPC Advertising or Pay Per Click Advertising gives you the extra spotlight your dealership needs in order to be found on a google search. We explained this form of advertising in a previous article entitled Automotive PPC Advertising for Your Marketing Arsenal. This would be a great resource if you're still scratching your head to understand PPC Advertising.
Once you better understand what PPC advertising is and how it can benefit you, it's time to shift your focus to setting up a campaign.
Things to Consider for an Automotive PPC Campaign.
Ian Favre is the Digital Marketing Director at TVI MarketPro3. Before physically creating dealer ads, he first determines how this paid search campaign will help the dealer?
TVI MarketPro3 starts with an onboarding phone call in which our team digs to learn more about the specific goals and pain points of the dealer service department. The dealer may be struggling to get people through express lanes, or they may need more traffic for tire sales.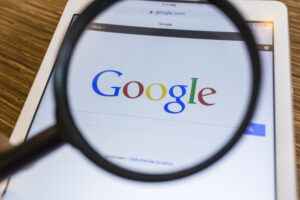 The more specific we can be in goal setting with a customer, the more likely we are to find success for them. Everyone wants more leads, but what specific things, on your service drive, can we help with to make an immediate impact for you?
Budgeting for Dealer PPC Ads
TVI MarketPro3 designs all paid search campaigns with an overarching budget for fixed operations. We then create groups with topic-specific ads. For example, we might have an oil change, brakes, or other categories that meet specific dealer goals.
Once we have a budget and each group is created, we assign that budget to all groups. We tell Google these groups are all of equal importance, so spend where these searches are.
At TVI we do not assign "individual budgets [to] spend this much money on brakes, this much money on oil changes. It is telling Google, you have X amount of money to spend per day, say $50, $75, $100, whatever the investment is… go spend that money where the searches are," says Favre.
Plan for Patience
When auto dealerships develop a PPC strategy, they must realize it takes time to reach maximum performance. Once you get data inside Google Ad Words and Google Analytics, you can start making adjustments in the campaign for best performance.
Pay-per-click advertising requires continual monitoring and daily adjustments. Any company or digital marketer expecting to do a "set it and forget it" paid search campaign will not achieve the desired success.
Keyword Research for PPC
Keyword research is a pillar of paid search success. At TVI MarketPro3, we use several third-party tools in our keyword research. Programs like SEMrush and Google Keyword Planner give great insight into valuable keywords. We also have DMS integration with dealers allowing us to pull all the customer comments in the repair orders. We then scrape all the keywords that could be from those customer comments.
Negative Keywords
Using Negative Keyword lists in Google Ads helps advertisers prevent serving impressions or generating ad clicks on keywords unrelated to the business. These negative keyword lists can vary from dealership to dealership, but the dealership name can drive a need for these negative terms.
Negative keywords are those words on which you do not want to bid. A lot of it is going to be word association to elements of your business. For example, let us imagine a dealership named Broom Stick Chevrolet. Using negative keywords will prevent an ad from appearing in searches related to brooms or sticks irrelevant to the business.
Quality traffic is the driving force of paid search, and digital marketers have to find a good balance in generating clicks and leads for dealers but making sure that those are quality clicks and leads.
DIY or Hire a pro?
Can all of this paid search work be done in-house by someone on staff? An internet or BDC Manager, perhaps? Yes, it is entirely possible, and many dealerships have elected to go this route. But ask yourself this; has your internet manager been managing automotive paid search campaigns for 15+ years? Does your BDC manager have all of their Google certifications?
So dealerships have the option to hire somebody and bring it all in-house. However, it will probably be more cost-effective with a more skilled individual at an agency that does this professionally for hundreds of automotive dealers.
Visit our website for more information on TVI MarketPro3's Paid Search program.