Websites are a vital part of automotive success. Whether your goal is to gain online traffic for car sales or to increase your parts sales and RO count, a website is the first impression a potential customer gets when searching for your goods or services.
If your website is not well-constructed, it might be the only online impression your dealership will make. Let's look at the overall anatomy of an automotive website and how each part impacts the effectiveness of your digital marketing efforts.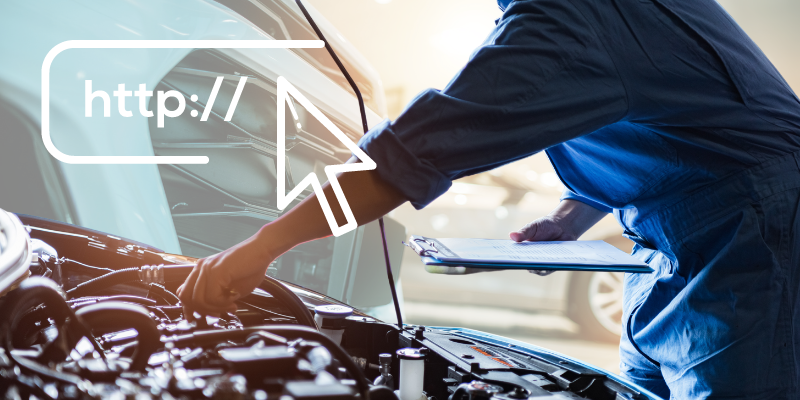 Banner With a Purpose
A user's ability to find what they need starts at the moment they hit the website. The banner image is the first, and arguably the most important, part of a website.
There are a variety of sizes and types of banners to choose from, such as a half-page banner image, a medium banner, a full-page hero header, or a hero image. Determining the best option for your company website starts with what you want the customer to see, feel, and do immediately upon entering your site.
Don't Stop the Pop
Sumo.com analyzed data from almost two billion pop-ups and found "the top 10% highest-performing pop-ups averaged a 9.28% conversion rate." So, while pop-up pages may seem like annoying little mosquitos to swat away, they pack a powerful little bite.
Take a Load Off
Patience is no longer in high supply when it comes to the internet, so staring a hole through the screen while waiting for a page to load can be frustrating. Increase your load speed by compressing and optimizing your website images and minimizing the number of redirects within your site. A web developer should be able to help you with this and other more technical solutions to increase your load speed.
Lead the Way
Your online customers must be easily able to find what they need. Whether they're looking for a specific vehicle or car repair, your navigation menu and calls to action should show them the most efficient way to get there. Your online representatives should be available to answer questions through a chat.
Less is More
When building a site, there are endless features from which to choose. Be intentional in selecting which features to add to the site. If they fail to help in the customer journey, eliminate them. Many features look snazzy but can distract from your message and increase load times, so be sure to test them before publishing your site.
Aim to Convert
Dealership websites are more than just automotive eye candy. The purpose is to convert by quickly walking a customer as directly as possible to the service department scheduler or the online sales rep's inbox. Make sure your site is mobile-friendly and uses search engine optimization (SEO). You should also test your features regularly to prevent broken links and outdated contact forms.
Don't Forget the Footer
Just as the name indicates, the footer is the space at the bottom of the website that includes valuable content and is the same from page to page. A properly designed footer will support conversion, as some of its features improve SEO and some are links the user will often scroll to directly rather than skimming through the site. The footer is typically designated for a copyright notice, a privacy policy link, a sitemap, the logo, the dealer's contact information, social media icons, and a link to a contact form.