Undoubtedly, online reviews significantly impact a business's success, but managing these reviews, especially the negative ones, can be a stress-inducing, full-time job. Whether they are positive or make you want to find a secluded corner on the sales lot to hide, all reviews need your attention.
Rave Reviews
For optimism's sake, let's look at some glowing grades. Every dealership has a variety of feedback on multiple platforms. Here are a few from the DealerRater website for a Toyota dealership:
5 STARS – "Always great! I would never take my car anywhere else if it's not [Sample Toyota]! I absolutely love them. The best!!!! Always great work and prices."
5 STARS – "[Sample Service Advisor] at [Sample Toyota] was very professional, knowledgeable, timely, courteous & had a wonderful attitude. He took extra time to review details, procedures and costs"
5 STARS – "I had a wonderful experience at [Sample Toyota] Service Center! My experience at [Sample Toyota] Service Center was wonderful. I was welcomed from the moment I walked in, and received outstanding customer service from Ms. [Sample Service Advisor] throughout the entire process. I will definitely recommend this service center to family and friends."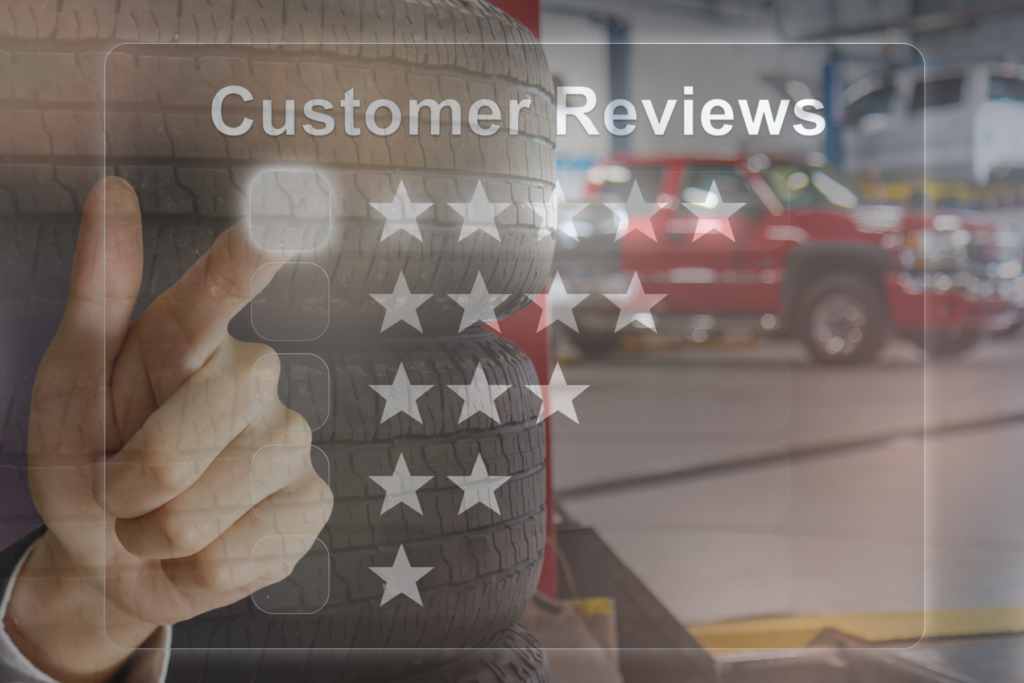 A Few Positive Reviews Don't Get the Job Done
Unfortunately, this Toyota dealership's service center only averages 2.5 STARS. How can that be with reviews like these? It makes you want to scream from the rooftop, "just do more of this right here!" Now, let's see if we can stomach the negative reviews for the same "Sample Toyota" Service Center:
2.5 STARS – "Check what they do carefully. Well here I go again! The last two times I had my truck serviced and it's under warranty, the tires were not rotated and it was not washed. And this last time I know for a fact the tires were not rotated because I placed a mark on one of them and it was still in the same place. So it gets me wondering after 2 and a half hours with an appointment what else is not being done that they tell you it had been done from the invoice. So be aware if you think everything is being done to your vehicle while in the service department chances are it's not."
1 STAR – "Just looking for ways to charge you more. I took my 2011 Toyota Tundra in for an oil change and told them to check, when the truck is cold it starts right up, however when it is warm it stutters, seeming like it is not getting gas like it wants to stall. Then it runs and drives fine. The service guy did not relay that and they came back and told me the battery was bad, an additional $ 135.00. Then told me it was fine, I picked it up and it was still the same problem. When I called I was told I need another analysis charge of $ 135.00 seems their magic number. Then they can look and see if they can find it. So they can tell me again they cannot find it. That will be another $ 135.00. I believe I paid for a battery that I did not need, so I will pass on the second go around and find another Toyota dealer, I would advise you to avoid their service department."
1 STAR – "Will never go to this dealership again for anything. My daughter took her car to this dealership for a $60 oil change. They told her that she did not need one yet but charged her $93 to visually inspect the driver's side floor mat (yes floor mat, itemized on invoice) and visually inspect brakes. I would strongly recommend avoiding this dealership."
1 STAR – "I had a service appointment today at 10 a.m. Unfortunately, it took 3 hours to finish it. Wasting my time. I know it doesn't take more than 45 min to change the oil in a car. I'm wondering why they give appointments if it takes 3 hours. If they don't have enough employees, then they should not give appointments. This has been happening for several times. Really disappointed."
Maintenance Isn't Just for Cars
Look, we all know that preventing negative reviews is impossible. How you react to such reviews will make the difference to how they are perceived by a potential customer. The average consumer doesn't expect perfection, they do however, expect action, responsiveness, and correction.
So how does a dealership service leader swing the negative review pendulum in the other direction? By regularly maintaining the various customer feedback sites. There are several steps to take to manage negative reviews:
-Respond Promptly.
-Address the issue.
-Use the feedback to improve.
-Encourage positive reviews.
-Monitor all online reviews.
Effectively managing negative reviews improves your dealership's reputation online, but remember to capitalize on those positive reviews. Positive customer reviews can help build trust and credibility with potential customers. They also demonstrate the quality of service offered by the dealership's parts and service departments. As a fixed operations leader, you can leverage positive reviews in several ways:
-Share them on your website and social media channels.
-Use them in marketing materials.
-Share positive reviews with your staff and use them as teaching moments.
-Use them to set performance goals.
-The most important thing you can do is respond to the reviewers. After all, they did take the time to compliment your services. The least you can do is give them a review response to say "thank you," and you "appreciate their business."
No Time? No Problem.
Leveraging positive reviews strengthens your dealership's reputation, improves customer loyalty, and attracts new business. If you feel you don't have time to monitor customer reviews, take some time to check out review management software that will take care of reviews for you:
–BirdEye: BirdEye is a comprehensive reputation management software that helps businesses monitor online reviews, manage social media, and improve customer experience.
–Reputation.com: Reputation.com is a cloud-based platform that helps businesses manage their online reputation across various channels, including review sites, social media, and search engines.
–ReviewTrackers: ReviewTrackers is a review monitoring and reputation management software that helps businesses track online reviews across various sites, including Google, Yelp, and Facebook.
–Yotpo: Yotpo is a customer content marketing platform that helps businesses collect and manage reviews, ratings, and other user-generated content.
–Podium: Podium is a messaging platform that helps businesses manage customer interactions across multiple channels, including messaging, reviews, and feedback.
Reputation management tools help dealership service departments monitor and manage their online reputation. These programs also improve the customer experience and attract new business, making them a viable option for many fixed operations directors.