The Fixed Operations Department has a significant impact on dealership success. Throughout the automotive industry, dealerships rely on these areas to increase the bottom line company-wide. Vehicle service and parts sales are two of the main fixed ops segments of the dealership. Therefore, examining how to increase profit in these areas will help determine what tweaks to make in a service drive.
Understanding company financial statements
A statement will most often reveal the gross profit in the top few line items. Gross Profit is the income a business has left after paying all direct expenses (cost of sale) related to the manufacturing of a product or the costs associated with providing its services.
Scroll down to the "bottom line" of the statement, also known as net profit. After deducting all other expenses, the dealer gets to keep what is left over. These expenses are broken into three categories: Variable, Semi-Fixed, and Fixed.
Variable cost examples are commissions, manager's pay, and policy expenses. Semi-fixed expenses include uniforms, computers, and IT support. Rent, insurance, and depreciation of tools, lifts, and the facility all fall under fixed expenses. Fixed expenses remain more or less consistent over time.
The profit margin is a percentage rate based on the gap between profit and revenue. The net profit margin is an indicator of overall company success. Gross profit margin indicates how well a department maximizes revenue while minimizes the cost of sale. Generally, service and parts departments should monitor and manage both to create the best overall result.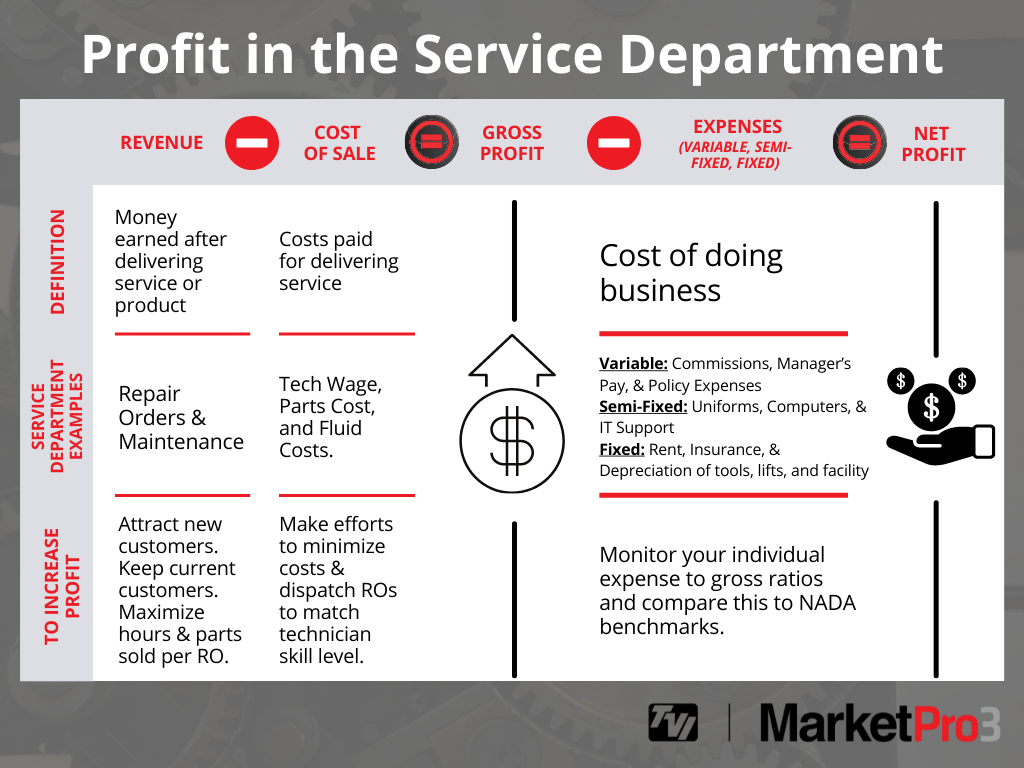 Financial statements are like the scoreboard in a football game. Coaches make decisions and call plays based on the score. Without a doubt, service managers can use their financial statements to make similar game plans.
Alter price, not quality of service
To increase the profit margin, raise the price or lower the cost of sale. However, do so without losing the service quality. Focus on increasing repair orders and reducing costs wherever possible. 
Examine how you can reduce your break-even point. The break-even point is the total expense it takes to operate the business for a month.
TVI MarketPro3 agent, Nick Shaffer, has years of experience in fixed operations. When discussing the break-even point he gave us an example from when he managed Acura of Pleasanton.
"My nut was $200k, so I knew I needed to earn $200k in gross profit to break even." Shaffer goes on to say, "knowing your break-even point, working to lower that total expense, and always knowing how your gross profit is trending for the month in relation to the 'nut' are good stats for a manager to keep an eye on."
Monitor the labor rate
Labor costs and labor sales are always easy to let slide, but this is a mistake if you are looking to increase your profit margin. Shop operators must calculate their facility's effective labor rate regularly. They should then consider how to improve the situation.
In addition, consider dispatching your repair orders to align the skill level required with the skill level of the technician. Ensure you're not paying an unnecessarily high wage for a particular repair.
Increase incoming dollars
We've examined some of the cost-cutting areas, but the other half of the profit equation is revenue increases. Look at how you can maximize the hours and parts sold on each repair order. Increasing revenue starts with increased lead generation followed by successful lead conversion practices. So, boost your revenue by increasing the number of transactions or repair orders.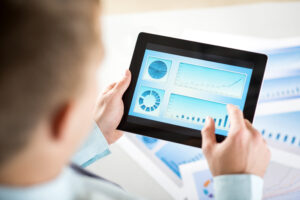 Customer acquisition and customer retention need to be at the top of the list when discussing increased revenue. Create referral programs to make it easy for your happy customer to spread the word because customer satisfaction is a must for retaining customers. If you can't keep returning customers coming through the door, you'll be spinning your wheels trying to keep your service bay full and prevent lost revenue.