Online marketing is constantly evolving for all businesses, including those in the automotive industry. Auto marketers have a unique challenge when it comes to marketing for a dealership. There are several entities under one umbrella, and they each have target customers they need to reach using unique strategies.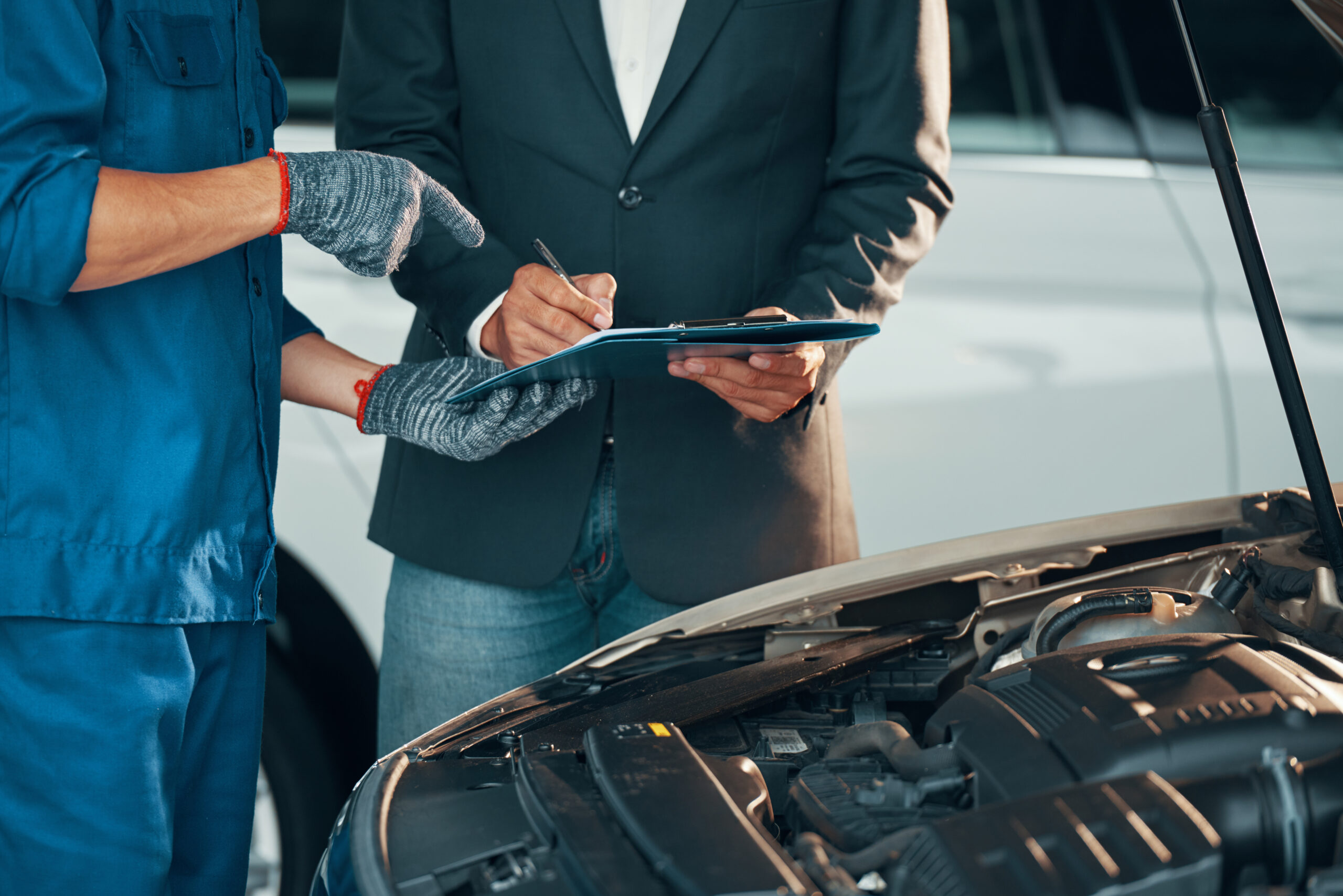 Fixed operations departments have an even heftier challenge as they are not only competing with other dealers for repair service customers, but they must also stand out amongst the droves of independent repair shops and quick lubes in their market.  
Therefore, dealership service departments should not rely solely on the overall dealership marketing to increase their repair order counts. They must have a customized strategy that targets their specific customers. Local marketing should take precedence rather than attempting to reach a large geographical area.  
Fixed Operations Marketing Prep
Before committing to marketing services or strategies, a dealership should explore a few areas about its target audience.
What is a complete customer lifecycle?
Effective marketing goes beyond acquiring a customer. Dealers must ensure the customer experience encourages return visits, and customer retention increases when marketers know the right time to extend an offer. And marketers must present coupons and other promotions that will attract the customer back to the dealership.
Who is your fixed operations customer?
Car owners come from all walks of life and a wide range of ages and economic circumstances. So it can be a challenge to define a car repair customer. But breaking these customers into segments is a great place to start.
Did they recently purchase a brand new car or a used vehicle? Did they come in for a costly repair or regular maintenance? Do they have multiple children and need their minivan to continue running safely for as long as possible, or are they single and trade in their vehicles regularly?
Knowing these details about your customers not only tells you how to treat them in your service drive, but it also reveals what offers to extend to them for future service.
Take a Data-Driven Marketing Approach
With Dealership Management Systems (DMS), we have a lot of information about the customers and their vehicles. But go beyond this to ensure you're reaching the right customer at the right time with the right offer.
TVI MarketPro3 extracts data from multiple databases and merges this information with a dealership's DMS. TVI uses this information to create an automotive marketing strategy that pinpoints where customers are and where they are in their vehicle ownership. It also allows us to find those customers that may have never entered a particular dealership.
What social media platforms do your customers frequent?
Do you shy away from social media marketing? Maybe you dabble in some platforms but aren't interested in a social media deep dive. You might want to reconsider as Facebook alone touts more than 3 billion users. You can bet a good chunk of these users consists of your current potential customers.
Ensure your dealership has the right social media business pages set up and that each of these pages produces effective and relevant content regularly. Post stories and news events your followers will like, comment on, and share. These posts will not always be about your business. Balance the content between sharing other compelling posts, behind the scene videos, and attractive products or offers.
Email marketing is still an effective and direct way to remind your current customers that you are there for vehicle maintenance and repairs. Provide valuable email content and follow it with irresistible offers to get more vehicles to your service drive.
Use your website as an online compass.
Keep your customers in mind when designing your website for both personal computers and mobile devices. Ensure your fixed operations have a bold presence on your dealership website. Also, be sure to publish the dealer address in the header and footer of the site.
Let's Get Local!
Now that you've defined your basic customer approach, it's time to get local. Car dealership marketing must establish a local presence. Think about how potential customers find you and meet them there.
Search engines are the number one way customers seek out car repair services, so why is it when we google "car repair near me" dealerships are not popping up? The search engine results pages (SERP) are full of independent mechanics and other car care providers, but dealerships rarely land at the top of the list.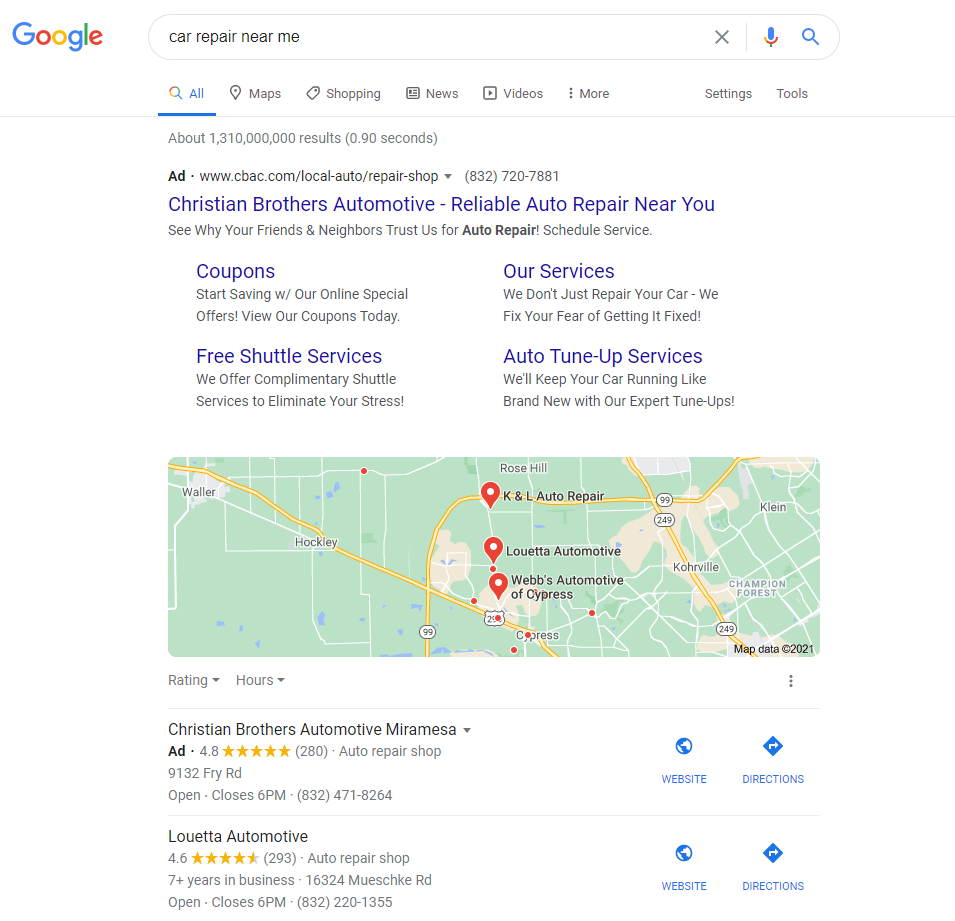 It even seems as though many car dealers aren't even reaching the top SERPs when someone searches "for car sales near me." How does a customer know that local car dealers provide car repairs and car sales when they don't appear in their online search?
This challenge is due in part to the dealerships having multiple departments that provide different services. Ensuring a dealership's online optimization is locally focused will attract the customer for a test drive or a vehicle repair.
Google My Business (GMB) for the Auto Industry
Dealerships must be one with google, and there is no better way to accomplish this marriage than to claim and optimize your Google My Business Profile. Google My Business puts your dealership in a prime position on search results pages. But more importantly, it puts your dealership on the map, the Google Map. Your company or organization information appears in the 3-pack (the top 3 locations) on local search results.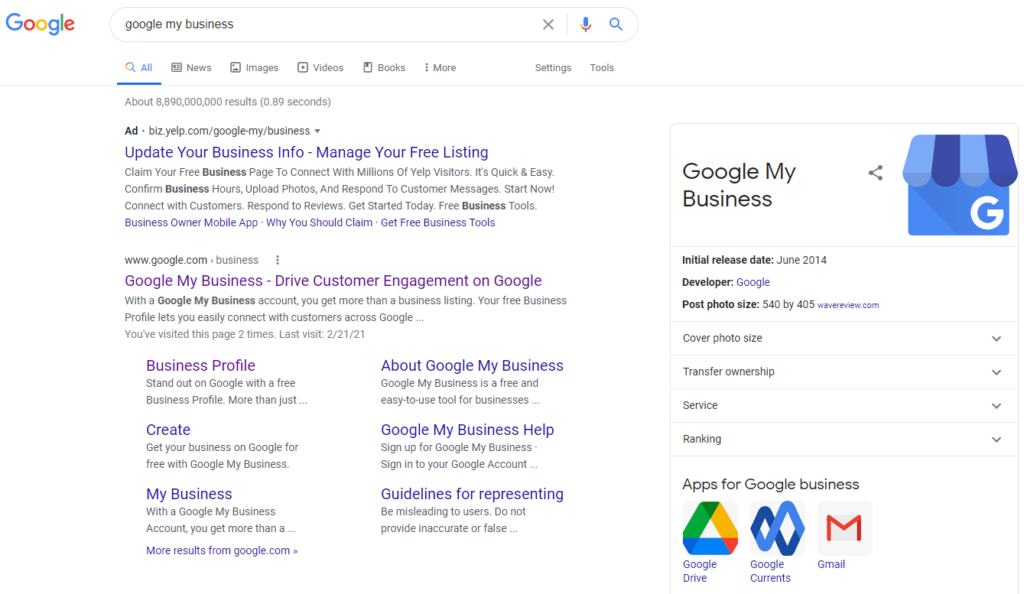 These come just below the cost-per-click (CPC) ads that appear at the top of a search results page. Some companies spend thousands of dollars to show up with CPC ads. These ads are one of the best ways to ensure you're found on Google.
However, with a highly optimized GMB profile, your business can appear near the top of search results for nothing. These results also have a more organic feel than CPC ads.
Take a minute to search for your dealership anonymously. Use an incognito window or tab in Google Chrome or other browsers to prevent your search history from being a factor in your search results.
Try several different key phrases to see where your dealership falls in SERPs. You might be surprised that you have to dig through several pages to find where your dealership is parked.
If this is the case, you know your marketing focus should be to optimize your local SEO. Discuss these goals with your marketing team.
Learn more on how to be found on search engines; visit TVI MarketPro3.