As a dealership leader, you likely find yourself scratching your head for automotive service marketing ideas to increase your RO. Dealerships have countless options when it comes to enticing potential customers to frequent their auto repair service department. Auto shop marketing strategies can be as simple as getting "word of mouth" recommendations. Or it can be the more involved digital and print marketing campaigns.
Your dealership may not have an in-house, dedicated automotive service marketing team.
If it does have in-house marketing, it likely puts the focus mostly on the sales department. This leaves the service department feeling a little like the middle child.
As a service manager, you might be wondering how to shine the marketing spotlight on your service drive. How can this be done when you may have very little to no marketing experience at all?
Don't sell yourself short. You have the ability to get the word out and capture new customers. With a focused marketing plan, it can be simple tasks that you work into your daily, weekly, and monthly routine.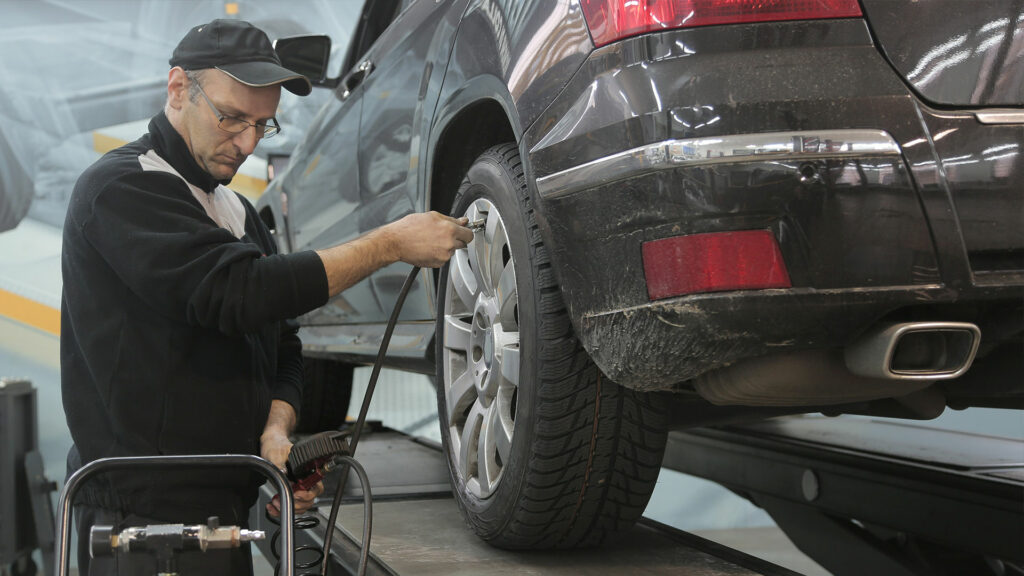 Let's look at 5 basic and budget friendly automotive service marketing ideas that work for any business including auto services.
---
#1 Word of mouth
Existing customers are your most valuable form of marketing. People love to talk about their great experiences. Ken Blanchard discusses this in his book Raving Fans. The book claims that making your customers raving fans is the competitive edge today.
We all have friends that do it. They passionately sell you a product or service they love without even knowing they're selling. So how do we put our current customers to work for us?
First you must give them something to rave about. Ensure their experience is outstanding and that they leave your service drive feeling like they were treated with fairness and respect.
Pay attention to your Facebook feed next time someone asks for a recommendation.  People come out of the woodwork to throw their favorite businesses in the mix of comments.  If their experience with your service team was top-notch, there's no reason they won't throw your name in the hat when the question is asked.
Secondly, ask them to spread the word. When encountering a satisfied customer, ask them to tell all their friends. Ask them to submit a Google or Facebook review. You can hand them a referral card that gives them credit towards service for every referral.
Keep in mind raving fans will often do this without incentive. They want to boast about the outstanding service they just had, but in case it doesn't occur to them, you'll need to ask.
---
#2 A Winning Website
When potential customers are visiting your website, what are they seeing? Is it all about car sales with the service department tucked neatly into the navigation menu? Is there clear messaging about the service department? Does the homepage have a clear call to action that encourages them to click through to the service page?
These are questions you should ask your website developers. You also need to ensure the website is search engine optimized for the service department. Too often dealership websites are focused on sales and completely overlook the need to attract customers who are googling where to get their next oil change.
---
#3 Google Maps
Take just a minute, and google "oil change near me". Chances are you'll see every quick lube and independent auto repair shop within a 10 mile radius. It is very unlikely that you'll see a dealership in the mix.
Oil changes may not bring in the big bucks, but it's not about the oil change transaction itself. It's more about the long game. David Boyle wrote an article that covered oil changes and tire sales in the September/October issue of Fixed Ops Magazine. He explains that dealers price oil changes very competitively, perhaps at a loss, with a greater goal in mind.
The goal is to earn a customer's trust.  It's also to encourage them to return for future services.  If it is worth losing a little profit to get a customer in for an oil change, why are dealers not popping up on maps with a google search for a nearby oil change?
Prioritize this as it is marketing on cruise control once it is in place.
---
#4 Email Newsletter
Email is an automotive service marketing must for dealerships. As you're gathering your customer's contact information, you can ask them to opt into your email newsletters.  Be sure they know what's in it for them other than another email that will see its way to the junk folder. 
Explain the offers they'll receive when the newsletter hits their inbox. Discounts on oil changes and free carwashes with certain services are always good reasons to click open an email.
Once they've entrusted you with their precious email address, make it worth their while. Not only should you include the great offers you promised, but the other content in your newsletter should draw their interest too. Include articles on maintenance, and always spotlight a team member. This allows your audience to get to know your team better.
Don't forget to write a compelling subject line. Why should they open your email? How will it benefit them to click?
This is what the subject line should answer. It can be as simple as a "$20 off coupon inside." If they know a $20 discount is sitting in there, you can bet that'll be worth the open.
---
#5 Social Media Marketing Ideas
There are so many social media platforms out there, so which one is best for auto repair marketing? The simple answer is the one you use. Facebook, Instagram, Twitter… the list goes on and on. To get a start on social media marketing and to be able to remain consistent with it, you need to find the one you're most comfortable with, and learn to use it well.
Create interesting content for your followers. Sure, you'll need to post offers and invite them in from time to time, but most importantly, you need to keep them engaged. Once they're engaged, you need to interact.
If they comment on a post you shared about car maintenance, respond to that comment without jumping right into the ask. Answer questions about their vehicle if they have them, and then sum up the chat with "we'll be happy to schedule you for an oil change or a (fill in the blank) service."
You should also look into paid social media ads. You can set your budget, select your target audience, and hone into a specific area.
---
Conclusion
Auto parts and service departments must market themselves independent from car sales in order to be effective. Create a routine that puts the simple steps into practice, so your service drive gets just as much (or more) traffic than the sales lot.
Connect with TVI MarketPro3 for more automotive marketing info.