The automotive industry has a vast array of options when it comes to marketing. Marketing campaigns include emails, social media, radio, and tv ads. However, do not overlook the power of the printed word. Direct mail is still a viable and cost-effective tool for targeting customers.
What is Direct Mail Marketing?
Direct mail marketing is a printed piece that is sent and delivered to a home or business. There are many types of direct mail pieces that you can send, and there are various mail services. United States Postal Service is the most common and frequently used among marketing agencies in the United States.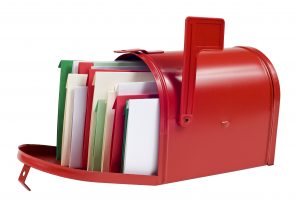 Effectiveness of Direct Mail Marketing
A customer.com case study for a large regional bank revealed direct mail is a viable source of acquiring accounts. The right combination of components in the campaign could improve response rates above 25 percent. The results can also occur in automotive marketing.
Checking mail is something most people do daily, and many companies continue to send bills through the mail. Therefore, it is likely your mailed pieces will reach the hands and eyes of your customer. When it does, it will allow them to see your brand and your contact information. Therefore, your marketing messages must be well-planned to get the most out of your mail campaign.
Direct Mail Design
To make your mail piece stand out from the bundle of mail people receive regularly, there are a few things you need to consider. First, think about what typically catches your attention as you are filtering through your mail.
What do you put aside? What do you throw something away, and what makes you stop and look?
Size matters, so you want to make sure that you avoid mail pieces that are too small or too big. If it is too small, it might get caught between a magazine or folded grocery offers. If it is too big, the consumer may not want it taking up counter space, so it will quickly find its way to the circular file.
Another thing to keep in mind is that you don't want to overwhelm the potential customer with too much text. Your messaging should be short, concise, and properly spaced from the other elements on the mailer.
Mailing allows the sender to use bright and bold colors that are more forgiving in print advertising. Using vivid colors on an email tends to strain the viewer's eyes, but this is not the case for printed pieces.
Any images and logos you use must be sharp and clear to make a good impression. Make sure that you're purchasing and using stock images that are high resolution. A blurry photo, or an image that is not scaled proportionally, can jeopardize the legitimacy of your mailer.
If you have a folded mail piece or an enclosed piece, make sure the outside gives your recipient a clue as to what is inside. Add a message to the outside that will encourage the recipient to open your delivery?
Targeted Solutions
While direct mail is highly effective, it can often cast a wide net onto an undefined audience. Targeted direct mail will always bear more results as you are mailing the right message to the right customer at the right time. It ensures the mailer money goes to the intended customer.