What is retention?
In the automotive industry, retention defines the dealer's ability to generate real, authentic loyalty with its customers. Retention is a factor now more than ever. The industry has finally realized the CSI (Customer Satisfaction Index) is not necessarily an indicator of business growth.
Dealerships can have a fantastic CSI result and still have a decline in business. And conversely, you can have a dealership with atrocious customer satisfaction results, but their business continues to grow.
Customer retention is a great equalizer because you cannot fake this measurement. Retention performance only comes when you service a customer multiple times within a certain period. Having good retention and customer loyalty is required for sustained growth. If you lose a customer for every customer gained, you break even.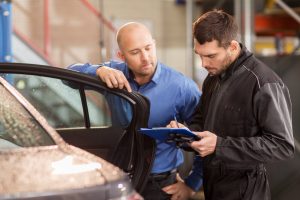 Is retention more of a factor in sales or service?
Both are required for a dealership to prosper, but if you have to pick, it is more necessary to retain service customers than sales customers. Dealerships that sell a hundred new cars per month will service roughly 1500 vehicles in the same month. Keeping 70% of 1500 customers is much more impactful than retaining 70% of the hundred new sales customers.
Measuring Dealership Retention
Every manufacturer measures retention differently. Some manufacturers want one repair order in 12 months, and others look for two repair orders in 15 months. This difference in measuring retention carries over to sales as well. 
Manufacturers each have their methods of tracking retention, which is why TVI created a retention report that can be applied to every dealership, regardless of the Original Equipment Manufacturer (OEM). This report is one of our foundational True Market Study reports.
Marketing Strategy from Service to Sales
The marketing strategy dealers use for sales department retention is vastly different than that of service department retention. Dealers should examine retention goals from an overall dealership standpoint as well as within each department.
It has to be part of the store culture from the dealer principal down to the lot porter. Everybody has to care about retaining their clients. The dealership must have the right culture with the right people in place doing the right things.
It is all about customer experience!
Customer retention comes down to one main idea: the customer must have an overall fabulous experience. It is not enough to settle for a good experience anymore.
To stand out in this vast market, you must earn customers that will continue to come back. Not only should they return, but they should also rave to their friends and family about their experience. 
The area to focus on for customer satisfaction is the timeliness of getting the customer in and completing the repair. A dealer also needs to ensure their pricing structure is competitive and transparent. A clean facility and a customer-friendly team also have an impact on retention.
When it comes to retention, the ideas may seem simple, but it takes a good leader and lots of discipline to execute them. If a dealership leader can create the right culture, the customers will keep coming back time and time again.