Recall Data Management for Dealership Service Drives
The difference between recall versus an open recall
A recall would be a defect that the National Highway Traffic Safety Association (NHTSA) has deemed a manufacturer must remedy, fix, or resolve for the customer. Hence manufacturers file recalls on vehicles and appliances throughout the United States.
An open recall is a recall that has not been remedied or repaired by that manufacturer. So, any "open recall" means the recall repair still needs to be performed.
Targeting open recalls
The automotive industry finds open recalls by identifying VINs that still have recalls not yet repaired. You can do so by sourcing the data through multiple vendors, checking manufacturer websites, and the NHTSA website.
There are multiple data points out there that allow various dealership service centers to verify completed repairs for an open recall.
How recalls help the bottom line for fixed operations
So the benefit from a financial perspective or the bottom line for a dealership is that recalls cost the consumer nothing. And the dealership is paid per their agreement with the manufacturer for flagged hours, parts, and those reimbursement rates set in place. A dealership targeting lucrative recalls can enhance its profits and bottom lines for fixed operations.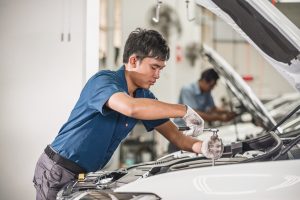 Dealership focus on open recalls
The focus on getting recall customers through the door is specific to each dealership. Some dealerships are very strong at making sure they have processes to identify every recall that comes into the drive.
In addition to this, multiple states now require recalls for vehicle sales. Undoubtedly there is a strong focus in the automotive industry on resolving recalls.
Attracting recall customers
Dealerships have a lot of tools at their fingertips to help resolve these issues. First of all, your local marketing company or your preferred service marketing company should have access to recall data.
Many dealerships source or file a list through Business Development Centers (BDC). This list can be provided by mining your Dealership Management System (DMS) data. Also, a dealership can have a marketing company or manufacturer produce a target list.
The BDC can call this list, or the service advisors can utilize some downtime to reach out to these recall customers.
Conclusion
Attracting recall customers can be a valuable way to increase traffic in your service drive. Dealers can do this through direct mail and email marketing and making actual live phone calls through your BDC or advisor team.
Once you get these customers in your drive, the goal will be to influence return visits for future maintenance and repair services.
TVI MarketPro3 has a robust recall marketing strategy. Learn more.